| Item ID | Starting Bid | Bids | Current Bid |
| --- | --- | --- | --- |
| 88460 | $8.00 | 10 | $45.00 |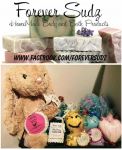 Value: $60.00
Donated by: Forever Sudz, Patty Annett
Facebook Page: www.facebook.com/foreversudz/
Description: You are bidding a homemade soap and bath-bomb gift basket made by Foreversudz.
The basket includes....
x1 bar of soap (Purple Rain)
x1 Jar of Blueberry Bubble Bath
x2 Bath Teas (Rose and Chamomile)
x6 Bath Bombs: Milk & Honey, Lavender, Rose Heart Petal, Help Me I'm Sick, Emoji Monkey Farts, and Tutti Frutti.
Bath Scrunchie
Adorable plush Rabbit
I make homemade body and bath products, from bar soaps, bathbombs, bath salts, lotions, sugar scrubs, bath teas, lip balms, and candles made with natural products. We all deserve a little "me time", and there's no better way to spend it than in a relaxing bath. Soak your troubles away with my specially blended bath salts - there's a scent for every mood. If you need to find your bliss in a hurry, you might consider my bath bombs. Unlike some other brands, my bombs contain top-quality bath salts combined with scented oils for a refreshing bath that's ready in no time. They fizz and foam for extra fun, and are a super easy way to get your young kids to bathe I won't set out into our Frigid winters without a lotion or balm in my purse - you shouldn't either! As with my homemade soaps, bath salts and bath bombs, my skin care products are available with natural scents or fragrance oils.
Note: Winning bidder will receive an email to make arrangements to pick up gift basket in the east end. No Cash Value. Please remember 100% raised goes to helping Ottawa animals in need.